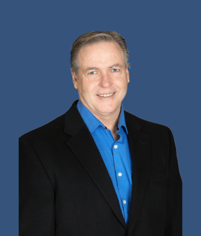 Jerry Olson has been in the printing industry for 38 years, beginning his career in 1977. His exposure to the industry began when he was a young boy. On weekends, his father, a printing plant supervisor, would bring him to work. Jerry was fascinated by the printing process and his interest quickly grew into a lifelong career.
Jerry has worked in nearly all areas of production. He worked at a prep trade house and spent a decade with a folding carton company where he ran a six color sheet fed press. After spending time as a Customer Service Representative, he moved into Sales where his previous shop experience proved helpful.
Jerry's hands-on background has helped him in many ways in his sales career. He enjoys using his experience in the creative phase of a project which helps add value and thwarts potential problems. He loves the challenges and rewards of a sales career and appreciates his customers from all over the country who have become life-long friends.
Jerry has always enjoyed playing guitar, weight training, and Minnesota outdoor activities. He especially enjoys spending time with his wife Kathy and their six grandchildren.
CONTACT INFO
Jerry Olson, Account Executive