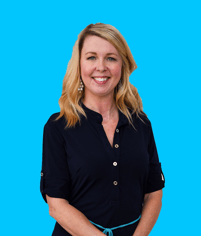 Kelli Buchholz, one of our most creative sales professionals, has spent her career focused on advertising and marketing. She is obsessed with great design, beautiful printing, and coffee table books.
Prior to joining the Sales team at JR, Kelli spent 15 years as the Director of Print Production at a large advertising agency overseeing all print buying and production services. Her marketing and project management experience in this area make her a perfect fit to service our current client needs. Her broad experience and consultative approach to projects make her an excellent resource. She received her MBA, Master of Business Administration, in May of 2021 which provides her additional insight into the business acumen of her client base.
Always one to be busy, Kelli enjoys golf, tennis, book club, theatre club, and cooking (but mostly eating) in her free time. She's also an avid Wisconsin sports fan with the Milwaukee Bucks and Brewers topping the list. She enjoys the games with her husband and two teenagers.
CONTACT INFO
Kelli Buchholz, Account Executive