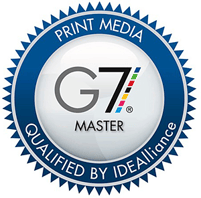 The John Roberts Company is a G7 certified printer. The company has also adopted GRACol and SWOP.
G7 is based on principles of digital imaging, spectrophotometry, and computer-to-plate (CtP) technologies. G7 is currently being applied to many types of printing including commercial and publication printing, newsprint and even flexo. The goal is to specify a simple calibration process that will help the printers reliably achieve a close, visual match from proof to press.
GRACol & SWOP is an acronym for General Requirements for Applications in Commercial Offset Lithography. GRACoL is a color reproduction specification for sheetfed offset lithography. SWOP stands for Specifications for Web Offset Publications. The mission of GRACoL and SWOP is to improve communications and education in the graphic arts by developing best practices that reflect the influence and impact of new technologies in the workflow of commercial offset lithography.