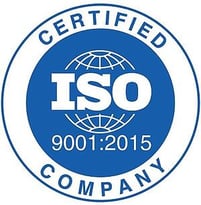 In 2015, The John Roberts Company successfully completed an ISO 9001:2015 Surveillance Audit to certify that its quality management systems have been fully assessed and approved by National Quality Assurance, U.S.A, against the provisions of ISO 9001:2015 for a full service commercial printer.
Scott Zorn, Vice President of Operations of John Roberts said, "We continue to strive hard to tighten up our quality management systems and control of documents. Quality management is one of the essential functions for our business and for our clients' success and it is why we continue to pursue the ISO 9001 standard."
ISO 9001:2015 is a master plan that provides a set of standardized requirements for John Roberts' quality management system. The ISO 9001:2015 standard gives a tested framework for taking a systematic approach to manage our organization's processes so that we consistently produce projects that meet or exceed our customers' expectations.