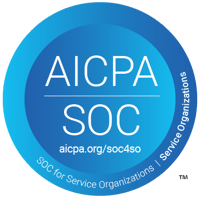 The John Roberts Company provides SOC 2 Client Data Security Assurance. The company successfully completed a Service Organization Controls (SOC) 2 attestation engagement covering the trust principles of Security, Confidentially, and Availability in 2012. Michael Keene, CEO of John Roberts said, "It is critical in our business to have a secure, reliable, and controlled information infrastructure. Security of our clients' data is of paramount importance, and it is why we have become one of the first companies in our industry to successfully complete a SOC 2 attestation engagement".
Service Organization Controls (SOC) 2 is a widely recognized auditing standard developed by the American Institute of Certified Public Accounts (AICPA) for the assessment of service organizations.
The SOC 2 is an intensive and costly process, requiring months of preparation. The John Roberts Company undergoes information security audits conducted by a third party auditor on an annual basis. Most recently, The John Roberts Company received a SOC 2 Audit Report.
The John Roberts Company pursued the SOC 2 audit voluntarily to confirm ongoing verification of the following for our customers:
The integrity of our data recovery facilities and data hosting solutions.

The security of our IT assets.
The security control objectives established for our Audit Reports are designed to satisfy the stringent security requirements and audits mandated by the corporate clients we serve. Annual Third Party Security Audit Reports verify our qualification to handle enterprise-class recoveries, and support those customers who must maintain compliance with data privacy and data security regulations such as HIPAA (Health Insurance Portability and Accountability Act).