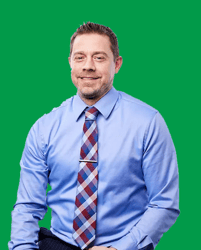 Jesse Ramirez has been involved in the Printing Industry since 1996. While attending college to pursue a Marketing degree, he worked 3rd shift at a small print shop running a two-color press. He enjoyed it so much that he changed paths and went to a Technical school for printing which ultimately lead him to join The John Roberts Company Sales team in 2012.
Prior to entering Sales, Jesse spent his first thirteen-plus years in print production. From running large-format presses, multi-color sheetfed and web presses to scheduling all of production, Jesse has rolled his sleeves up and been part of it all. He was also certified as an ISO 9001-2000 quality auditor in 2003 and uses all of his production knowledge to ensure that his customers' projects follow a smooth path through production.
Jesse's customer relationship is what he values most. He finds nothing is more rewarding than helping his customer's job become less stressful by solving problems, and figuring out more efficient ways to produce their projects. Jesse takes a tremendous amount of pride in being a resource to everyone he comes in contact with.
In his off time, Jesse can often be found on the hockey rink coaching one of his high-performance hockey teams, or running training programs. When not at the rink, he is spending quality time with his wife and five children.
CONTACT INFO
Jesse Ramirez, Account Executive
Office: 763-754-4405