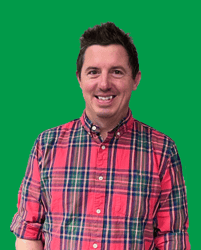 Kyle Kennedy is the Director of Enterprise Solutions at John Roberts, a commercial printing, packaging and marketing services company. As Director of Enterprise Solutions, Kyle sets John Roberts's technology strategy to drive awareness and demand for commercial printing, packaging and digital marketing services.
Prior to his role as Director of Enterprise Solutions, Kyle served as Director of Cross Channel Marketing, overseeing all cross-channel marketing campaign and web-to-print development, hiring and building out the cross-channel development team, and managing John Roberts's web-to-print platform development.
He holds a Bachelor of Science in Computer Science from University of Minnesota-Duluth. Prior to working at John Roberts, Kyle worked in software development, marketing automation, and IT management positions for companies in the commercial printing and U.S. Customs brokerage industries.
Kyle loves all four seasons of Minnesota and the sport-related activities that they entail. He also enjoys traveling and spending time with his family and friends.