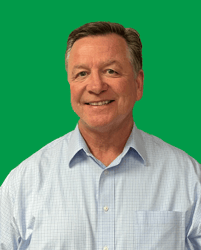 Mark is primarily responsible for leading our sales team. He is also a key asset in developing and implementing our marketing and business strategic initiatives.
Mark is a seasoned veteran of the printing industry and came to John Roberts after over 35 years at Heidelberg USA. Mark most recently served as Heidelberg's Vice President of the West Region; he has a proven record for building long term business relationships across the country.
Mark has a degree in Communications and is a proud Alumni Member of the University of Minnesota; as a Golden Gopher he played baseball and was a captain and quarterback for the football team.
Mark and his wife Barbara have four adult children, two boys and two girls; as well as one grandson and a second grandchild on the way. Mark and his family enjoy spending time in their backyard pool and around the Lake Calhoun area, they also share a passion for art and sports. The Longhorn painting above is by his wife Barb.
CONTACT INFO
Mark Carlson, Executive Vice President of Sales