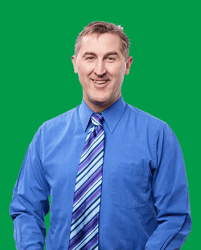 Mike Nordberg has been involved in the printing industry for 30 years. His career began in 1994 where he worked for his late father-in-law, Dave Peterson, at his premier color printing company that sold and produced high quality marketing and communication materials along with fine art reproduction. During this time, Mike developed a keen eye for color and gained an appreciation for quality and craftsmanship. Mike came to The John Roberts Company in 2001 with a graphic designer's mindset and was intimately involved with the color correction, foil separations and press checks for the Heritage Edition; the full-sized fine art reproduction of The Saint John's Bible.
In the ever-changing environment of printing, Mike always remains enthusiastic and upholds a positive attitude. In addition to being a reliable and trusted resource, Mike respects a client's budget, time frame, and expectations.
When not working, Mike enjoys fishing, boating, and jet skiing. He spends family time at his cabin with his wife, two grown-up kids, two dogs, and two cats.
CONTACT INFO
Mike Nordberg, Account Executive