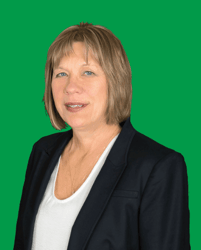 Sandy Doody has been an integral part of The John Roberts family for 30 years. Starting in 1978 as full-time receptionist, she then returned in 1983 as a Customer Service Representative before she entered her Sales Career in 1985 where she remains today.
As a young girl, Sandy was familiar with The John Roberts Company and the printing industry as a whole. She was part of the local community and had many family members working in the industry. She felt natural and comfortable from the start.
Creating life-long friendships with many customers and within the John Roberts family has been one of Sandy's most rewarding and motivating aspects of her job. It has been her joy to watch customers' and fellow-employees families grow and change through the years. Another source of pride is partnering in the creative process and problem solving to gain the most value in the work produced.
Sandy enjoys spending time with her husband Jim and growing family. She can often be found watching her 7 grandkids participating in activities of all kinds, camping, and she enjoys other outdoor activities.
CONTACT INFO
Sandy Doody, Senior Account Executive