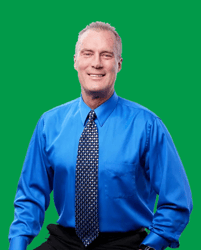 Scott Brown has been a part of The John Roberts family for twenty-nine years. Scott began his career in 1986 when his father, former Vikings player, Bill "Boom-Boom" Brown needed help servicing his accounts. Knowing the Keene family and in honoring his father, Scott came aboard as a Customer Service Representative which slowly evolved into a "hybrid" of Customer Service and Sales. In 1996 Scott transitioned into a full-time Sales role where he has resided as an Account Executive ever since.
Spending time working in production in the plant setting helped Scott build a strong and knowledgeable framework for being well-rounded in the sales profession. He has strong and rewarding relationships with both his fellow co-workers and customers who have been paramount in his success.
Keeping his customers happy, garnering work for the company and providing for his family are the things that Scott values the most.
A huge music fan, Scott has always enjoyed a good concert. He also relishes time with his wife Donna, 2 grown boys and any time spent on the golf course.
CONTACT INFO
Scott Brown, Senior Account Executive