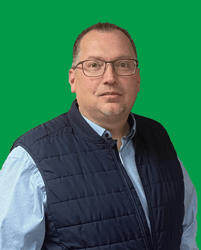 Scott Zorn is currently the Vice President of Operations at The John Roberts Company. Scott has been involved in the Graphic Arts Industry for 34 years. He started his career with John Roberts working in the sheetfed and web departments and shortly after was promoted to sheetfed pressman. Scott's loyal service earned him several promotions through the pressroom and eventually to management of all printing operations.
For Scott, the most rewarding aspect of the print industry is being a reliable resource to employees and customers alike, and meeting a multitude of interesting people both on the inside and out. Scott's passions are, passing on what he has learned, satisfying customers and seeing a job well done. He enjoys being a positive influence and drawing on his technical expertise to showcase John Robert's amazing capabilities for customer satisfaction.
Scott and his wife Heather enjoy traveling, playing golf, fishing and spending time together with their dog Jake.
CONTACT INFO
Scott Zorn, Vice President of Operations