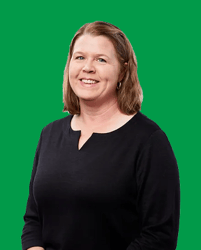 Marnie Janezich has been working at The John Roberts Company for over 25 years. She is the granddaughter of founder Robert A. Keene.
When Marnie started at John Roberts in 1990 she never intended to stay beyond college. However, with her heart and soul in the fabric of the organization, and the opportunity to grow within the company, her desire for another career soon disappeared.
In her many years of service, Marnie has been involved in all areas of production, including 10 years in Purchasing, Sales and Management, and currently, as President.
It is the people, both internally and externally who motivates Marnie the most. Her heart lies in the company's success. Its many employees and customers all benefit greatly from her sense of responsibility on their behalf. Finding solutions that "win" for all is her biggest reward as part of the leadership team in a fast-paced and changing industry.
In her free time, Marnie and husband Chad are busy supporting their children in their schooling, and enjoy watching them play sports. She enjoys the outdoors, particularly on or near one of Minnesota's beautiful lakes.
CONTACT INFO
Marnie Janezich, President