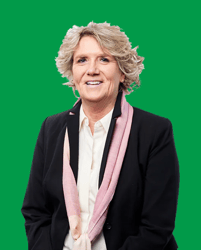 Wendy Whiting has been in print production for over 20 years and was a long-time client of John Roberts before starting in Sales for John Roberts in February 2022. In addition, growing up, Wendy was very familiar with The John Roberts Company as her grandmother had a long career with John Roberts, starting as one of very first employees and retiring as a Customer Service Representative. Wendy had many visits to the plant and saw the growth of the company over a few decades. While the transition to sales has been a learning opportunity, Wendy is energized at the challenges, the technology and getting to service her customers and learn about their businesses and printing needs. Wendy is delighted to be a part of the John Roberts family as printing has always been her passion. As a print production director, she was driven to deliver innovative solutions from file production and printing techniques through to distribution and fulfillment. Now on the other side of printing and in Sales, Wendy truly enjoys working with her customers, understanding their needs, and delivering outstanding print projects.
Wendy is a graduate of Augsburg College in Minneapolis, MN with a degree in Business Management and has had tenured employment with Honeywell, Wilsons Leather and Christopher and Banks.
When not working, Wendy enjoys spending time with her family and friends. Especially boating and fishing in northern Wisconsin in the summer and as many fishing trips to sunny FL as possible in the winter.
CONTACT INFO
Wendy Whiting, Account Executive