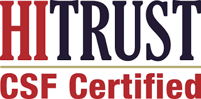 The John Roberts Company achieved HITRUST CSF Certification in 2018. The certification is important to the company because of the multiple clients that are in the healthcare industry. "Healthcare organizations and vendors are under great pressure to meet complex compliance requirements that include technical and process elements such as HIPAA, NIST, ISO and COBIT," said Michael Keene, CEO at The John Roberts Company. "The HITRUST CSF sets the bar that needs to be met, and The John Roberts Company is pleased to be able to demonstrate its commitment by achieving HITRUST CSF".
The HITRUST Common Security Framework (CSF) Certification validates we are committed to meeting key healthcare regulations and protecting sensitive private healthcare information. HITRUST CSF helps us address federal and state regulations, standards and frameworks, and incorporates a risk-based approach through a comprehensive and flexible framework of prescriptive and scalable security controls.
HITRUST CSF Certified status indicates that our enterprise resource planning, prepress, data processing and fulfillment business units and systems have met industry-defined requirements and is appropriately managing risk, and places us in an elite group of organizations worldwide that have earned this certification.